GCC Presents...CE B4 DE
Combining the excitement and spirit of DE
with an incredible Chiropractic CE program...
something you will only find at the GCC!
| | |
| --- | --- |
| | The GCC is pleased to announce a new opportunity for you to earn your CE credits. Many of those who attend DE meetings in Atlanta are from out of town and typically arrive early on Thursday. Why not use that extra time in Atlanta to join your friends in earning some of your chiropractic CE credits! Several speakers you know and love have agreed to present Chiropractic CE credits for this convenient program which will be held on Thursday afternoons before each Atlanta DE meeting. |
July 17, 2014 - 12 Noon

Pete Amlinger, DC
Send Registration Questions To: info@georgiachiropractic.org
or Register by Phone at: 678-667-4567
---
2014 GA Legislature Wild Hog Supper
GCC Board Members and Leaders Join Georgia Governor Nathan Deal and Other Georgia Legislators in Celebrating the Opening of Georgia's 2014 Legislative Session
.

---
GCC GCA Joint Legislative Meeting
GCC Board Members and Leaders met with GCA Board Members and Leaders on Tuesday, December 10th for discussions regarding Georgia Senate Bill 261 which will be processed in the upcoming 2014 session of the Georgia Legislature. For more information about the meeting or about Senate Bill 261, contact GCC's Legislative Chair, Dr. Brad Pizza or GCC President, Dr. Awais Butt .

---
A Fabulous Time Was Had by All
at GCC's 2013 Holiday Christmas Party!
Hosted by Dr. Brad Pizza
Click here for more pictures: https://gccchristmas2013.shutterfly.com/
---
GCC's New President, Dr. Awais Butt
Gives First Presidential Address
As the newly elected President of the GCC, and on behalf of our entire Board of Directors, I would like to extend my sincere and heartfelt appreciation for the honor and privilege of leading such a historically relevant organization. The Georgia Council of Chiropractic has a rich history of accomplishments within the state of Georgia, other states in the U.S., and the entire world; and I am humbled to be a part of such a legacy.
After graduating from SUNY at Buffalo in the year 2000, I moved to Atlanta to pursue a career in the profession that had revolutionized my life and remarkably changed my overall health. I fell in love with the Atlanta area, Life University campus and its President, Dr. Sid Williams. In my second quarter at Life, I was able to go to DE and have been consistently attending since that time. It was a great time and a life changing experience. It was, however, during this time period that Life lost its accreditation and over 80% of the student body transferred out. I remember sitting thru many meetings, even those that were mostly for Life's teachers and administrators. It was a time of great confusion and desperation for a once flourishing university. At this time, a small group of students decided to band together and to defend the university's right to exist and not transfer out. Many have said we in this group chose to be 'baptized by fire' into Chiropractic. We setup telethons, wrote letters, and even had a group march to be heard by the Georgia state officials. I believe that besides other factors, all this hardship was put on the students and teachers because not enough of us showed up at the right time to stop an opposing faction in our profession. Life University came out of the whole fiasco and is thriving once again, but the same situation is now arising again, and this time it is about the scope of chiropractic practice in the state of Georgia.
It had been two days since I was elected President of the GCC, after an amazing annual convention at the Tellus Science Museum in Cartersville, Ga. Our Executive Director, Kat Frazier, forwarded an email, which has been attached, that smells similar to the faction that organized the removal of Life's accreditation. The email is an open declaration of a full on effort to expand the scope of chiropractic to have rights to prescribe drugs and injectables for the citizens of Georgia. ( read more)
---
GCC outgoing President, Dr.

Bobby Braile, of Marietta Georgia was named
GCC 2013 Chiropractor of the Year by the Membership of the GCC.
Dr. Braile is a tireless servant of the chiropractic profession, the principles and the people of his community. The award was presented to him by last year's recipient, and new GCC President, Dr. Awais Butt. The inscription on the palque reads as follows:

Chiropractor of the Year 2013
is awarded to
Dr. Robert Braile, DC, FICA

for SERVING with pride the
Georgia Council of Chiropractic
and the Chiropractic profession,

for GIVING with passion of one's self
above and beyond expectations,

and for LOVING a principle,
a profession and the people.
The GCC congratulates Dr. Braile for an honor well deserved.

---
Dynamic CA 2.0 Certification Courses
New, more accessible format, new courses, new material, new scheduling...all to better meet the needs of chiropractors, CAs and those wishing to become CAs. Register NOW!
Phone Registration: 678-667-4567
---
GCC Mission Statement
The Georgia Council of Chiropractic is 100% committed to protecting, promoting and perpetuating chiropracTIC to benefit Georgia's citizens and the ChiropracTORS serving in Georgia.
Our mission is to profess and promote the ideals and principles of the founder of chiropractic, Dr. DD Palmer, the developer of chiropractic, Dr. BJ Palmer, and the defender of chiropractic and founder of the GCC, Dr. Sid E. Williams.
The GCC proclaims that detecting and correcting Vertebral Subluxations is a just and noble cause, which allows people to express 100% of their innate potential for health, happiness and overall well-being.
The GCC also notes that Chiropractic is not therapeutic, and should remain a non-therapeutic profession, which does not embrace a therapeutic approach to health and does not include the use of drugs or surgery.
The GCC recognizes the legal rights of all licensed Doctors of Chiropractic to practice within the legal parameters of their state law. We welcome as members all, regardless of practice style, who understand and respect the ideals as set forth by the GCC.
Amended June 7, 2012
---
Georgia Council in Action

Georgia Council of Chiropractic president, Dr. Braile, speaks before the US Department of Education's, National Advisory Committee on Institutional Quality and Integrity (NACIQI), concerning the Council on Chiropractic Education's (CCE) reaccreditation.
Click here for GCC article on USDE NACIQI hearing on CCE.
Click here for transcript of GCC testimony .
Click here for NACIQI Staff report on CCE
Image Copy of Article from Chronicles of Higher Education on CCE and hearing.
---
Subluxation Awareness
GA Governor Signs Proclamation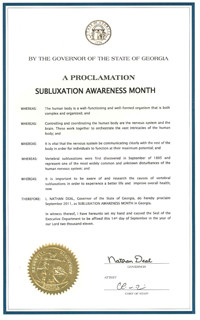 Georgia's Governor, Nathan Deal, once again this year presented a proclamation proclaiming September to be Subluxation Awareness Month. (Click on image for larger picture) The presentation took place at the Georgia Capitol on Wednesday, September 26, 2012. Click here for press release.
The proclamation notes the health concerns of subluxations and declares September as a month of education and outreach, "I, Nathan Deal, Governor of the State of Georgia, do hereby proclaim September 2012, as Subluxation Awareness Month in Georgia." (Click on proclamation thumbnail to read full proclamation)
---
Be a part of the GCC chiropractic movement.
---
GCC News

---
GCC Founder, Dr. Sid E Williams, Dies
Dr Sid E. Williams passed away early Thursday morning. While our profession has lost the greatest chiropractic champion of our lifetime, we should all feel privileged to have lived in the time of the "Defender of Chiropractic.
Dr Sid was the founder of the Georgia Council of Chiropractic. He guided the GCC and the early leaders through the formative years. He mentored many of us in preparation for leadership, giving us the strength and direction to carry on the work. Although we will all miss him, he gave us our vision and our marching orders.
The work of defending the principles of chiropractic now falls to us. Before his passing, BJ Palmer instructed us about the principle of chiropractic when he asked us to "guard it well". Now with the passing of Dr Sid, we must remember that he told us to "Keep on Keepin on".
In Memory of our Leader,
Dr. Bobby Braile, President GCC
Website: http://www.mayeswarddobbins.com/obituaries/Sidney-Williams2/#/Obituary
---