GCC Presents...Summer CE Express 2013

Chiropractic: Principled, Specific, Scientific

June 8-9, 2013
20 Hours in Just 2 Days!
Holiday Inn Express & Suites Savannah South
Savannah, Georgia
Neurologically Based Chiropractic

Upper Cervical Analysis

Adjusting with Certainty

Upper Cervical Technique

Chiropractic Philosophy

Ethics & Risk Management

Georgia Laws & Rules
---
Chiropractic: Yesterday, Today, Tomorrow
July 19-21, 2013
​
Dean DePice / Liam Schubel / Eddie Cordero
Andy Roberts / Patti Chelenyak / John Davila / Bobby Braile
Super Saver Registration Going on Now
Save up to $100 off your convention package!
Must register and pay by May 31st.

Register by Phone: 678-667-4567
---
Dynamic CA 2.0 Certification Courses
New, more accessible format, new courses, new material, new scheduling...all to better meet the needs of chiropractors, CAs and those wishing to become CAs. Register NOW!
Phone Registration: 678-667-4567
---
Combining the excitement and spirit of DE with an incredible Principled Chiropractic
CE program...something you will only find at the GCC!
12pm - 5:15pm
Atlanta DE Thursdays
August 1 - Chiropractic Pediatrics
Dr. Pete Amlinger

October 24 - Patient Education
Keith Wassung

Register by Phone at: 678-667-4567
---
GCC Mission Statement
The Georgia Council of Chiropractic is 100% committed to protecting, promoting and perpetuating chiropracTIC to benefit Georgia's citizens and the ChiropracTORS serving in Georgia.
Our mission is to profess and promote the ideals and principles of the founder of chiropractic, Dr. DD Palmer, the developer of chiropractic, Dr. BJ Palmer, and the defender of chiropractic and founder of the GCC, Dr. Sid E. Williams.
The GCC proclaims that detecting and correcting Vertebral Subluxations is a just and noble cause, which allows people to express 100% of their innate potential for health, happiness and overall well-being.
The GCC also notes that Chiropractic is not therapeutic, and should remain a non-therapeutic profession, which does not embrace a therapeutic approach to health and does not include the use of drugs or surgery.
The GCC recognizes the legal rights of all licensed Doctors of Chiropractic to practice within the legal parameters of their state law. We welcome as members all, regardless of practice style, who understand and respect the ideals as set forth by the GCC.
Amended June 7, 2012
---
Georgia Council in Action

Georgia Council of Chiropractic president, Dr. Braile, speaks before the US Department of Education's, National Advisory Committee on Institutional Quality and Integrity (NACIQI), concerning the Council on Chiropractic Education's (CCE) reaccreditation.
Click here for GCC article on USDE NACIQI hearing on CCE.
Click here for transcript of GCC testimony .
Click here for NACIQI Staff report on CCE
Image Copy of Article from Chronicles of Higher Education on CCE and hearing.
---
Subluxation Awareness
GA Governor Signs Proclamation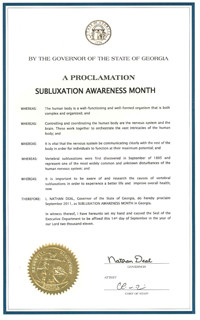 Georgia's Governor, Nathan Deal, once again this year presented a proclamation proclaiming September to be Subluxation Awareness Month. (Click on image for larger picture) The presentation took place at the Georgia Capitol on Wednesday, September 26, 2012. Click here for press release.
The proclamation notes the health concerns of subluxations and declares September as a month of education and outreach, "I, Nathan Deal, Governor of the State of Georgia, do hereby proclaim September 2012, as Subluxation Awareness Month in Georgia." (Click on proclamation thumbnail to read full proclamation)
---
Be a part of the GCC chiropractic movement.
---
GCC News

---
GCC Founder, Dr. Sid E Williams, Dies
Dr Sid E. Williams passed away early Thursday morning. While our profession has lost the greatest chiropractic champion of our lifetime, we should all feel privileged to have lived in the time of the "Defender of Chiropractic.
Dr Sid was the founder of the Georgia Council of Chiropractic. He guided the GCC and the early leaders through the formative years. He mentored many of us in preparation for leadership, giving us the strength and direction to carry on the work. Although we will all miss him, he gave us our vision and our marching orders.
The work of defending the principles of chiropractic now falls to us. Before his passing, BJ Palmer instructed us about the principle of chiropractic when he asked us to "guard it well". Now with the passing of Dr Sid, we must remember that he told us to "Keep on Keepin on".
In Memory of our Leader,
Dr. Bobby Braile, President GCC
Website: http://www.mayeswarddobbins.com/obituaries/Sidney-Williams2/#/Obituary
---
Dr Awais Butt named Georgia Council of Chiropractic 2012 "Chiropractor of the Year"
GCC Board member, Dr. Awais Butt, of Douglasville Georgia has been named the GCC 2012 Chiropractor of the Year by the Membership of the GCC.
Dr. Awais is a tireless servant of the chiropractic profession, the principles and the people of his community. The inscription on the palque reads as follows:
Chiropractor of the Year 2012
is awarded to
Dr. Awais Butt
for SERVING with pride the
Georgia Council of Chiropractic
and the Chiropractic profession,
for GIVING with passion of one's self
above and beyond expectations,
and for LOVING a principle,
a profession and the people.
The GCC congratulates Dr. Awais for an honor well deserved.

---